CAECUS – VERDICCHIO DI MATELICA D.O.C.
PRODUCED IN ONLY 4,000 BOTTLES, YEAR 2018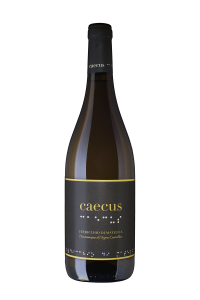 THE FIRST WINE IN ITALY WITH A LABEL ALSO IN BRAILLE
The I Tre Monti Farm is located on the slopes of Monte San Vicino, in Contrada San Giovanni, in the middle of the lands historically owned by the Pettinelli family. After a long history of wine production, in 2009 we planted the new vineyard, focusing on the choice of the Matelica Verdicchio DOC. For the first time our product ends up bottled and with a label and a story all its own, the Caecus, a kind wine for kind people: a wine dedicated to Monsignor Luigi Pettinelli, cousin of Vincenzo, blind missionary and also a small producer of wine. A story that takes us back to remote times where, between one mission and another, Luigi found time to return to his Matelica to devote himself to his vines, right where our receptive structure "Da Foschetta" now stands.  
A WINE THAT TELLS A TERRITORY
Dry white wine of great viticultural and oenological depth. Straw yellow to light gold in full maturity, green reflections in youth, bright and luminous. On the nose rich in secondary aromas referable to broom, acacia, hawthorn and in the background slightly fruity exotic; horizontal olfactory profile, very broad, always elegant, of good intensity. In the mouth fragrant, dominated by the acidic heritage that characterizes it for its great sapidity, fresh, with a clear hint of bitter almond, persistent and pleasantly dry; full bodied, balanced and persuasive. In maturity it becomes harmonious, dominated by hints of chamomile, honey, dry tea, complex on the palate even salty, very tertiary and mineral.
TABLE COMBINATI
ONS
Perfect match with all types of land and sea hors d'oeuvres, traditional first courses, even very elaborate Mediterranean fish, white meats, delicatessen, cheese to medium seasoning; colorimetric combination with everything that is not red. Excellent as a chattering and pet wine.
---
BORGARUCCIO – ROSSO COLLI MACERATESI D.O.C.
PRODUCED IN ONLY 1.000 BOTTLES, YEAR 2018
AN ANCIENT HISTORY FOR THE NEW ARRIVAL IN THE WINERY
Here is finally ready for you our Borgaruccio, a Rosso Colli Maceratesi DOC bottled for the first time this year in only 500 bottles. Also this our second label is born from the encounter between the history of the territory and that of our company, bringing us back in time to the Lords of Matelica of the fifteenth century, the Ottoni.
SANGIOVESE AND MERLOT
Designed to be a wine with great sensory pleasantness, based on hints of red fruits (undergrowth, red peach), in the total absence of tertiary woods and aromas of long maturation. A structured wine, sapid, soft, thick but absolutely drinkable. So a synthesis between the Mediterranean red rich in color and polyphenols and a fresh fruit wine rich in primary and secondary fermentation aromas.
TABLE COMBINATIONS
Useful in combination with all white and red meats, first courses with red sauces, valid with mature and medium-aged cheeses; excellent with cold cuts.